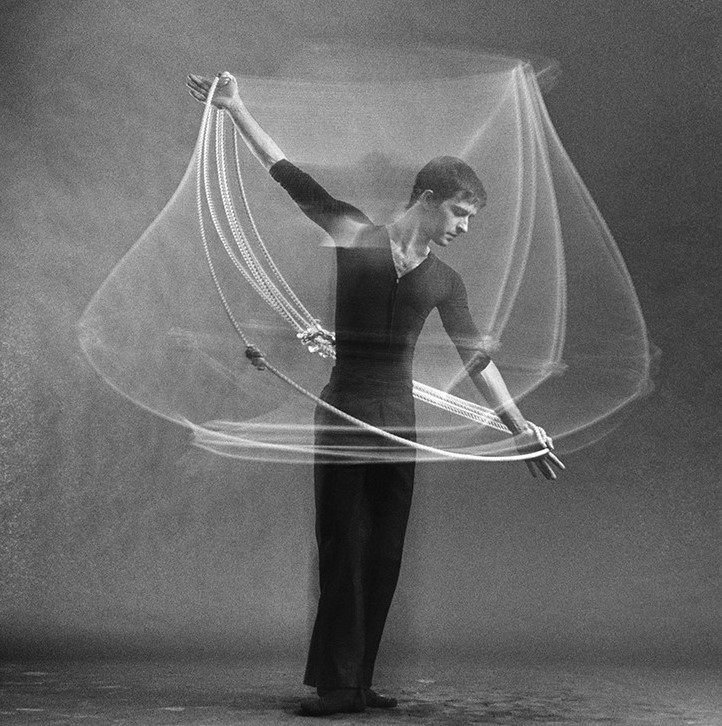 rope dance translation

Créé en 1974
Il s'agit d'une danse reliant l'énergie de chaque danseur en réponse à la manipulation de cordes. La « chorégraphie » pour cette danse est constituée par la géométrie des cordes, la force centrifuge du tour et le motif des solos et chœurs qui tournent.
(*Extrait du texte présenté au générique de début de la vidéo – traduit en français).
Chorégraphie : Andy De Groat
Musique : Michael Galasso
Interprétation : Ritty Ann Burchfield, Charles Dennis, Robyn Brentano, Frank Conversano, Andy De Groat
Lumières : Carol Mullins
Direction technique : Andrew Horn
Image : Richard Mattuszewski, Andrew Horn, Greg Murray
Producteur exécutif : Robert Crowe
Produit et réalisé par John Meaney
Filmé au Lepercq Space, Brooklyn Academy of Music, New York, en 1979
Restauré en 2015
Durée 21 minutes
* "Rope dance translations" is a dance relying on each individual dancer's energies and response to the ropes. The « choreography » for this dance is the geometry of the ropes, the centrifugal force of the spinning form and the strict revolving pattern of solos and chorus.
The solo dancers, within the discipline of turning have developed their own movement — initially improvised movement which gradually crystalized into a shifting, spontaneous choreography.
The trios are also improvised within certain limits. The dancer at the center of each trio directs the movements from moment to moment as all three dancers concentrate on maintaining the extremely difficult coordination of the same timing and phrasing.
Michael Galasso, whose music has evolved from his classical background and, in part, from spinning — composed the music for these dances by observing each dancer working with the ropes.
A piece of music was written for each solo dancer.
The dancers in turn clarified their movements through spontaneous response to their music.
The ropes were designed in 1973-74 and were shown in concert at Musée Galliera in Paris as simultaneous solos for Julia Busto and me.
Up to that time I had been working in dance with a simple approach — no special costumes, sets or props — just bodies in motion.
The rope metaphor (inspired by Kenneth King, a New York-based writer/philosopher/choreographer friend) and subsequent modification of that image into its present form allowed the addition of a strong visual layer to the spinning dance, inscribing/defining the space immediately surrounding the dancing body without destroying the integrity of the spin, and rendering that space, and the lines of force generated by the dance, visible.